SKATEMATE 'PRO' IS THE PROFESSIONAL
SKATE SHARPENER FOR THE ULTIMATE IN
HAND-HELD SKATE SHARPENING!


SkateMate® PRO fits almost any blade ROH,
from ice hockey to dance, figure, and freestyle.
THE REASON IS AN ADJUSTABLE GAP
AND A FLEXIBLE ABRASIVE CYLINDER.


* BRAND NEW DESIGN *


For ultra-thin flat-ground blades used on modern
long-distance tour skates and even similar
hardened-steel blades on speed skates
we have developed the SkateMate 3-IN-1 BANDY PRO,
which uses a DIAMOND COATED flat abrasive.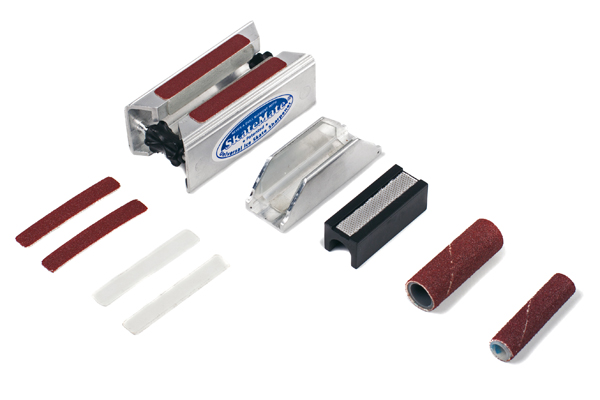 SkateMate® guarantees sharp blades without costly grinding jobs that not only waste your time and money, but waste away your expensive blades, as well!

I thought up this bright idea some three decades ago to save myself aggravation. Now, it has been redesigned to save you both time and money, since the flexible abrasive cylinder sharpens only the blade edges. It doesn't grind off the entire blade inch by inch, and dollar by dollar, which is exactly what high-speed abrasive wheels do every time. If you're looking for a precision tool, ask for SkateMate.
YOUR BLADES WILL LAST YOU MONTHS AND YEARS LONGER!
---



CLICK TO ORDER BY CREDIT CARD/PAYPAL

Encrypted credit-card transactions on
the Internet are totally safe & secure.



You can cancel at any time before submitting.
All credit-card prices are in SEK.
CLICK HERE for our new website to order in EURO.
---
FEEDBACK TO

THE INVENTOR

for homepage & true testimonials
from many satisfied customers.
IN ENGLISH ONLY!

©These web pages, graphics, and backgrounds are the property of
Rainbow Technologies [ Last update: Sunday 12 January 2014].