SKATEMATE 'PRO' IS THE FULLY ADJUSTABLE
SKATE SHARPENER FOR THE ULTIMATE IN
HAND-HELD SKATE SHARPENING!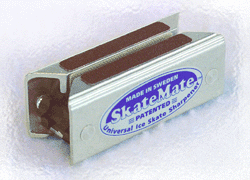 SkateMate® fits almost any blade ROH,
from ice hockey blades to dance, figure, and freestyle.

Both 100 grade...

It's patented space-age
(flexible) abrasive cylinder
will reshape itself to fit almost
any hollow-ground or flat-ground blade.


EXACTLY THE WAY YOU WANT!

Easily replaceable with no tools required.
THE NEW MYLAR CENTERING CRADLE
PROVIDES PERFECT ALIGNMENT
WITH YOUR SKATES ON OR OFF
UPSIDE DOWN OR RIGHT-SIDE UP
OR AT ANY ANGLE YOU CHOOSE.
IT'S FOOLPROOF!




...and 120 grade.
SkateMate® guarantees sharp blades without costly grinding jobs that not only waste your time and money, but waste away your expensive blades, as well!

I thought up this bright idea to save myself aggravation. Now, it has been redesigned to save you both time and money, since the flexible abrasive cylinder sharpens only the blade edges. It doesn't grind off the entire blade inch by inch, and dollar by dollar, which is exactly what high-speed abrasive wheels do every time. If you're looking for a precision tool, ask for SkateMate.
YOUR BLADES WILL LAST YOU MONTHS AND YEARS LONGER!
OUR SKATEMATE SUPPLIERS FOR UK & EUROPE



PROLINE INTERNET LTD


Unit A4 South Point,
Foreshore Road,
Cardiff CF10 4SP

TEL +44 (0) 2920 499688 /02920 026578

E-Mail




SkateMateUK


15 Musgrave Park Court
BELFAST, BT9 7HZ




http://skatemateuk.com/



E-Mail

PLEASE TAKE TIME TO READ THESE TRUE TESTIMONIALS (click here)
---
SkateMate® fits the many different skate blades on the market in two ways. The knobs adjust the guides for any blade width to give the best sliding fit. (The knobs turn on specially designed fine threads for maximum precision.)

The adjustable blade guides are covered with tough, smooth PP-polymer for effortless sliding action and to prevent scratching highly polished, expensive blades. The near frictionless PP-polymer also allows for a snug fit and greater sharpening precision. Competitive handheld devices with rigid gaps, and thus loose fit, will wobble and may actually round off blade edges instead of sharpening them.


SWEDISH PATENT: Dimensions: 70x27x24 mm (2.75x1x.95 inches). Weight: 59 g (2 oz)





HIGH-TECH
PATENTED
FLEXIBLE
CERAMIC
ABRASIVE
CYLINDER

The patented flexible ceramic-abrasive cylinder is designed to adapt under slight pressure to sharpen any hollow ground blade [figures, freestyle, dance, etc.]. Also shallow ground goalie blades. And it will work on all thin flat-ground blades [racing, tour (Scandinavian tour skates) , speed, etc.].




SkateMate uses no messy oils nor expensive solid whetstones, which soon become grooved, worn-out and useless. Instead, the tough long-lasting cylinder is simply turned to a fresh surface, or quickly and easily replaced by turning open the sharpener sides until the patented holder drops free (no tools required).
This unique sophisticated pocket-sized sharpener uses a flexible cylinder coated with an advanced long-lasting ceramic-based abrasive. Cylinders are replaced quickly and inexpensively without tools.

NEW DESIGN! A tough, flexible Mylar 'foolproof' centering cradle has now been added to the cylinder holder to guarantee spot-on alignment no matter how or where you sharpen your blades!! Skate anytime, anyplace with the cutting edge of a real cool pro.

NEW RETROFIT KIT!
A smaller cylinder kit
has been developed
for the more recent
ROHs of 5/16" and 3/8".


Competitive handheld sharpeners need half a dozen expensive models to do what this unique invention does all in one—and better. This is the result of more than two decades of trial, testing and refinement in Scandinavia. This is why this flexible handheld sharpener has the edge on the competition— both in performance and in overall total price! Save time, money and unnecessary irritation by expertly honing all your skate blades yourself.

You'll get your investment back after only 4 or 5 sharpenings. And, when you don't have to grind and grind and grind, you'll soon see how much longer your expensive blades last!



OUR GUARANTEE: IF YOU'RE NOT SATISFIED, YOU'LL GET YOUR MONEY BACK!

There are countless theories afoot about how to sharpen hockey, figure and dance skates, etc., but for basic info about the right ROH.

CLICK HERE

You'll always stay sharp
. . . and skate sharp!